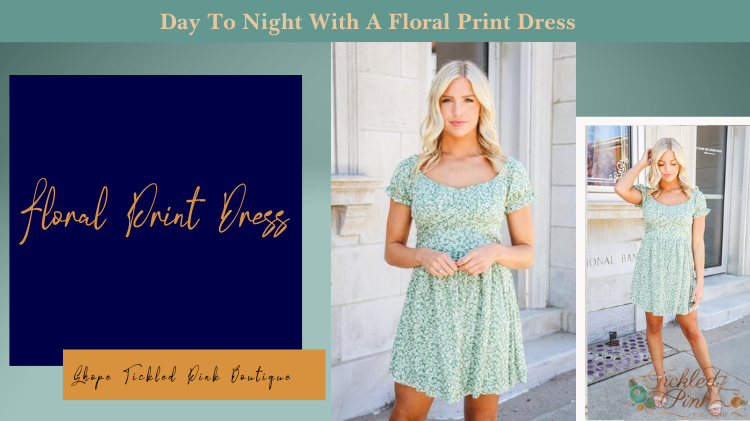 Day To Night With A Floral Print Dress
Floral clothing is the life of the party in spring and summer. When whites and grays are all gone for a year, florals make a comeback and sprinkle their magic all over. We mostly think that floral clothing comes in less variety but it is not true. The enthusiasm and the joy that floral clothing brings with its bright visual appearance is beyond amazing! 
Let's take you through this small guide to style a floral dress in multiple ways from day to night. From accessory clothing to the best dresses available in women's clothing store online, we've got you all covered!
Floral dress with jacket:
Whether the atmosphere is cold or you just feel like switching things up, it is good to add an outer covering to the outfit. To make it look dope, you can add some accessories to it. It could be a pair of boho earrings or even a chunky bracelet. Just make sure that each accessory you add brings out the best in your outfit. Online women's clothing stores offer a wide variety of outer layers to pair your outfit with. Make use of the variety you can avail and create the trendiest outfit ever!
Floral dress for business casual look:
Office party? Casual business meeting over zoom? We got you covered! To make your floral outfit professional, you can add a blazer. The Karla Draped Blazer from the Tickled Pink boutique is one of the best choices. To make it a combo of professional and casual, you can go with faux leathers as well. Denim jacket is yet another classic option for a floral dress. Whatever way you choose, outer layers accentuate the appearance of your dress!
Floral dress with a top:
It is a huge misconception that tops and blouses can only be worn with jeans, skirts or shorts. To completely change the look of a dress, you can add a plain crop top above it. Most women's tops go really well with floral dresses given that they are solid in color or have minimal prints. With the right kind of top, shirt or blouse, you can create a statement look. After all, experimentation is the essence of fashion!
You can even go with sweatshirts or cardigans if the weather permits. Animal prints usually go really well with floral prints. Opt for a longer cardigan if you are styling it with a dress. That gives it a chic, extra gorgeous touch! 
Floral dress with shirts:
Have you ever worn a shirt over a camisole? All of us have, right? Well, why not take it up a notch and style our dresses with shirts! From solid shirts to flannel to printed ones, shirts look amazing over a lot of outfits. You can either knot it in front or secure it with a statement belt.
Dresses look amazing when you pair them with the right kind of items. Women's tops can be coupled with the dress in order to elevate the style. You can even use funnel neck t-shirts of solid colors to make the dress pop.
You can go with graphic tees as well. Whatever rows your boat!
Floral dress with vests:
Vests are far more versatile yet underrated outer clothing items. One can do a lot with this element in their outfit. It is easy to remove, easy to add, can be styled with almost everything and looks super stylish. With their sleeveless pattern, you can spice up your fashion by wearing accessories that adorn your wrist. 
Puffer vests usually look amazing with pretty much anything but it is up to you to choose the best kind of accessory clothing item to complement your beautiful floral dress.
Floral dresses to choose from:
Now, you must be wondering-there are so many accessory clothing items to pair up my floral dresses with. But where do I find the best floral dresses online? Tickled pink boutique is one of the best women's clothing store online for you to find anything and everything trendy. 
Conclusion:  
Fashion is very subjective. It is good to follow some traditional styles but at the same time if you switch things up, you can discover your own style. Florals never go out of fashion and are usually worn alone. But you can combine them with multiple clothing items and footwear to create a classic look only you can pull off.
In fact, florals are so versatile that you can experiment the most with them. Be it layering, be it trying different footwear, floral dresses are always a good basic element!