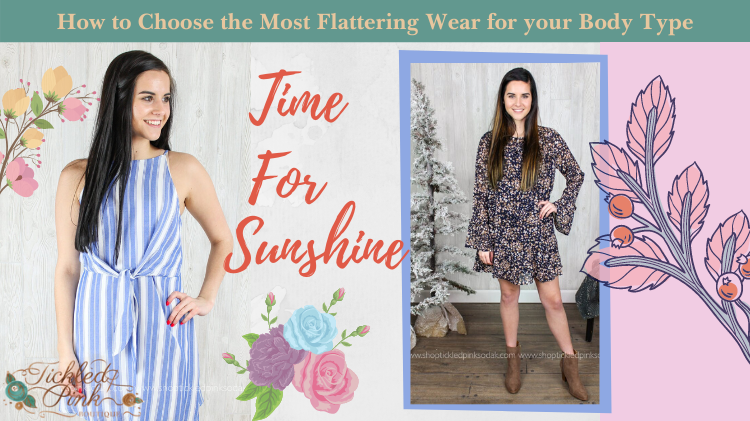 How to Choose the Most Flattering Wear for Your Body Type
Whatever be your dressing style, clothing preferences, or body type, Tickled pink dresses have got you covered. But before you pick up a dress for yourself, the first step is to get familiar with your body type because each dress is designed to fit a particular body type. So, if you want to enhance your silhouette, hide those unnecessary curves, or want to appear taller in a petite body, it is important to know your body shape well and choose dress accordingly. This guide aims to help you choose the right dress type. 
Dresses for the different occasion according to your body type
In women, we generally see four types of body shapes. These are pear, hourglass, round, and athletic. Now let's look at these body types and understand how to pick a dress according to your body shape. 
Ruffle Dresses: 
Ruffle dresses had been in fashion for a long time and can be paired with tights and boots or you can show off your bare legs with a stylish pair of sandals when out on a casual date.
If you have a pear or apple shaped body, pick ruffles along the shoulder that will draw away attention from your hips. Similarly, if you have a voluptuous bust, pick a dress with ruffles in the waist to sport a slimmer silhouette. If you have a rectangle body shape, pick a dress with ruffles at both the shoulder and hip regions. This will give you more of an hourglass silhouette.
Tickled pink dresses have a huge collection of ruffled dress that would perfectly fit your body shape. 
Wrap Dress and Tops:
The key feature of a wrap dress is the closure is done by wrapping one side of the dress to the other end thus wrapping over one another. The dress is secured by a bow or a knot at the waist or at the back. Typically, a wrap dress gives a V-neckline and looks smart on women who have hourglass kind of body shape.
The dress was designed by American fashion designer Diane von Furstenberg in 1972 and was originally meant for professional women. However, over a period of time, this dress has gone through a lot of transformation and adaption although the key feature remains the same. For example, a wrap dress with an open neckline can be worn for a casual outing too.  
Off-shoulder Dress:
Off-shoulder dresses have been in trend for a long time and they are here to stay for a reason! This dress looks gorgeous when paired with the right set of accessories and footwear. The off-shoulder dress can be worn both for casual and formal look depending on how you accessorize them. The main reason why off-shoulder dresses never go out of fashion is it suits all body types.
However, those who have wider hips, for example, pear body, looks best in these dresses because the dress draws away attention from the hip and focus more on the neck and shoulder.
Striped Dress:
Striped dresses are an all-time favorite for summer dresses. Whether you want to flaunt a workday at the office or catch the waves on the beach, the striped dress can be our best friend if you can find the right stripes.
For example, if you have an apple figure body with a full bust and narrow lower body, you can downplay the upper part of the body by choosing thick stripes at the bottom. Similarly, if you have an hourglass body, choose a body-conscious striped dress.
Tickled Pink at Mitchell sd has an amazing collection of dresses for you to choose and flaunt your style. This comprehensive guide will help you to know your body type and what style would go well for the required occasion. Apart from different body types, you can also choose dresses of different lengths. However, remember, you should be comfortable in your skin and you can flaunt any dress confidently.