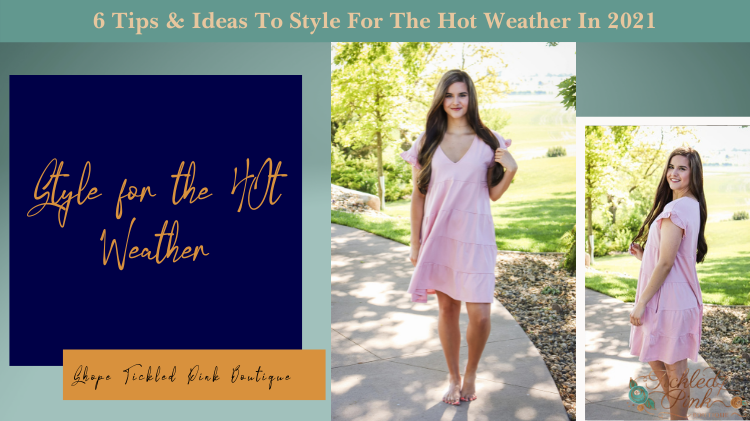 6 Tips & Ideas To Style For The Hot Weather In 2021
Summer has arrived, so naturally, all you ladies must be ready to go all out to feel the sun. It is likely you have been stuck inside for far too long and have spent the better part of the last few months planning your every move for the year's warmest season.
We are sure you must be craving beachside getaways, getting together with vaccinated friends, and the occasional drink at the bar, and, of course, a range of summer clothing ideas to help you ease back into your old, fashion-loving habits. So, wait no more, try out some amazing summer wear at the online women's clothing store and pick your favorite.
Styling Tips for Fashionable Summer Outfits
Many questions must pop into your mind when it comes to going out in style when the good weather is finally here. Whether to wear a bikini top with a sheer coverup, cutout dress, or just shorts with a tank top, is a serious dilemma! Let's make it a little easy for you, shall we? Check out the styling tips given below to figure out what works best for you.
Tip 1: Flowery Dress
A dress that moves with the wind is a great way to catch the breeze. Look for something colorful and tiered that can be worn for lunch dates with friends or as a quick cover-up after a swim in the surf. Try this floral babydoll dress with a pretty flower print to keep you cool all day long. Go with a pair of sandals and a sling bag to add those much-needed summer vibes in case you need some. Shop amazing and trendy summer outfits at the women's online clothing stores and get yourself a nice collection for your summer wardrobe this year.
Tip 2: Bright Colored Outfits
Summer is a perfect time to wear your brightest outfits. Make an AC-friendly outfit by mixing a dress with rainbow shades with a pullover cardigan. You can take out the cardigan while walking or strolling the streets and put it back if you are going to a fully air-conditioned space to ease up the chills. This mini dress with a cutout back is a perfect match if you want to carry a cardigan on top of it. You can carry a tote bag for an added touch. Find women's handbags in various colors and textures that go with your everyday summer outfits.
Tip 3: Striped Dress with Wedges
Are you rooting for a bohemian look this summer? Worry not. We are sending styling pixies your way to help you with the loom you desire. This striped shift dress is a stylish choice that is totally in trend for the summer season. It is a lightweight piece that may be worn almost anywhere. It is also adaptable and stylish, thanks to its attractive neutral color, which allows you to dress it up or down. The best part about it? It costs less than $50, making it a cost-effective addition to your summer collection. Top of the look with women's wedges, and voila, you are going to look like a true boho chic!
Tip 4: Ditch the Jeans/Denim
However soft the fabric, denim is the heaviest clothing designed on planet earth! If you're wearing stretch or slim jeans, they can be a little too toasty for your summer look. Instead, choose pants made of light cotton or linen. If you must wear denim, choose wide-leg jeans with a lot of room for air circulation. Go for high-rise bootcut pants to get a sleek and classy look in a jiffy. Pair it with a plain white cuff-sleeved top and add a layered necklace for some flare. It would make the outfit look dashing and give you the supremacy you desire while going for a client meeting in the summers. Surf from the best women's fashion jewelry collection to get your hands on classy rings and necklaces.
Tip 5: Choose Breathable Fabrics
During the rest of the year, you might not notice the difference between breathable and moisture-wicking textiles, but in the summer, you will. Synthetics are usually not breathable, so make sure your clothes are made entirely of linen, cotton, or silk. Try eyelet and seersucker if you want to experiment with texture. If you want lighter fabrics, you should try out the summer collection at online women's clothing stores.
Tip 6: Never Be Afraid of Wearing Black!
The little white dresses worn in summer get a lot of attention, but a good case is to be made for wearing a mini black dress all year. It is all in how you dress them up if you have got a date night planned for the weekend! Pair it with your favorite low-key footwear, such as sneakers or slides, whether the LBD is a slip-like style or a cotton puff-sleeve with a little flow. Get ideas on how to dress fashionably for a romantic date on a mesmerizing spring night. So, what are you waiting for? Call your partner soon and book a table for two!
Conclusion
Regardless of what you are wearing, a light-colored palette will instantly put you in a cool summer vibe. There are myriad options in the market to choose from, but it takes a good eye to see what looks best on you. Therefore, the few tips mentioned above will be of great help to you in finding the right summer outfit, applicable for various occasions. Find stunning patterns and styles at the best online women's clothing store – Tickled Pink Boutique and fill your summer wardrobe with everything chic and new!