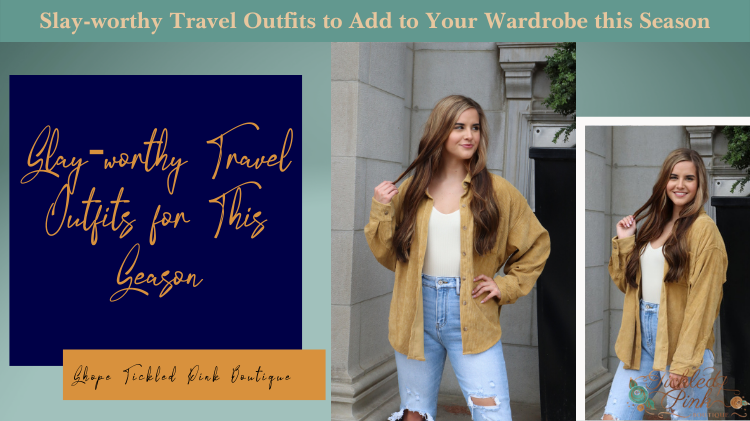 Slay-worthy Travel Outfits to Add to Your Wardrobe this Season
We are all about traveling fashionably, so cheers to a wardrobe full of clothing items for every place. It doesn't matter what means of transportation. You just want to be comfortable, right? Be prepared to pack for the temperature roulette that is inevitable while traveling. Sometimes you need extra layers while sitting in air-conditioned places such as airplanes or restaurants, and sometimes you just need a camisole and shorts while out in the sun, strolling the streets, or whatever. Shop comfortable and slaying traveling-appropriate outfits from the women's online clothing stores.
Best Travel Outfits at Online Clothing Stores
Find all-time best travel outfit recommendations in which you can feel comfortable yet look chic at the same time. The ideal travel suit follows a strict protocol. You'll need four items: Comfortable, fashionable shoes, a soft, possibly the best t-shirt, a light wool scarf or cardigan, flattering pants with stretch. Feel free to add one signature accessory — a little something extra to make it feel more "you" — if you're in the mood. Before you throw on something that first catches your eye, hear us out.
Here are 7 most amazing travel outfits that would make you less of a tourist and more of a slayer!
1. Leather Jacket and Jeans
A sleek faux leather jacket is essential if you will be traveling between large cities. With a mock collar t-shirt, jeans, and leather slip-on sneakers, keep the rest of your look casual. Your sleek, city-ready style is finished off with a bag. A sling bag will be the best choice for you when you are traveling from city to city. Having chic women's bags and backpacks from online women's clothing stores sounds more practical, especially when you want to safely store passports and other necessary items.
2. Cozy Cardigan
Chilly airplane cabins call for an elegant, hooded cardigan that you can throw on whenever you feel the chills. Skinny jeans, slay-worthy women's tees, and an ultra-cozy cardigan are the perfect match when you want to have a super comfortable yet paparazzi-worthy journey to the hottest vacation this year. Add stylish boots for an extra touch that can even work for your travel from the airport to whatever snowy winter wonderland awaits you.
3. Business Travel Outfit
Are you traveling for a business event, and you want to look sharp? Well, pack your suitcase with the most polished, elegant, and sleek trousers and shirts to get ready to slay the board meeting or conference. Add an elegant touch to the whole outfit by pairing up catty stilettos, a belt bag, or a clutch. Shop for women's bottoms from the women's online clothing stores whenever you are traveling for a business event.
4. Rompers for Restaurant Hopping
Up for a restaurant or bar-hopping? Well, the detour calls for a floral Romper with a cushy coat (if it's cold out there). Rompers are great for travel as it feels both glamorous and as comfortable as your pajamas when you have to walk a lot or while strolling the streets searching for the best street food in town. Especially when you are traveling to a place where the weather is too hot, and you get all sticky, rompers work as the best outfit. Get more ideas on how to style for the hot weather when you are in for a summer vacation.
5. Little Black Dress (LBD)
When fashion meets fashion, it always equals packing a little black dress. If you had to choose one outfit, what would it be? Well, mine would always be a black dress anytime! A black dress is the ideal blend of glamour and functionality. Black never goes out of style, and it may be worn for a longer time without needing to be washed. You may simply change the look by adding jewelry and scarves. In terms of footwear, we adore block heels! They're the most comfortable sandals you can wear, and they provide excellent support when you have to walk for a long time. There are so many different types of dress to choose from, and there is always something for everyone at the online women's clothing stores. So, pick out any Tickled Pink Dresses and get ready for a chic and slaying vacation this season.
6. Go Classic with Pants and Shirt
Wide-legged pants, a white button-down shirt, silk scarf, and kitten heels call for classic sophistication. What better way to dress for a trip to France or Italy than to channel Audrey Hepburn's style? A white button-down is always a traditional choice, and there are many non-ironing options as well. Another reader suggested wearing the same outfit with loafers instead of flats and dark skinny jeans instead of black pants. Shop selected and stylish women's bottoms at the online clothing stores when you have a sophisticated trip planned ahead.
7. Sporty Boyfriend Jeans and Tank Top
Many readers suggested wearing boyfriend jeans, a tank top, and sneakers as the ultimate three-piece outfit. For classic sophistication, one expert suggested black jeans with a white V-neck tee. If you're going to South America, Spain, or another colorful location, go for more colorful options. Layer with a boyfriend cardigan or an open chambray button-down top as the weather cools.
Conclusion
What's your go-to outfit when you are traveling? Find out more ideas on how to get your wardrobe travel-ready by taking inspiration from the ideas above. From street strolling to a business meeting, we have all the outfit ideas for you to choose from. Shop these amazing looks at the best online boutique stores – Tickled Pink Boutique.