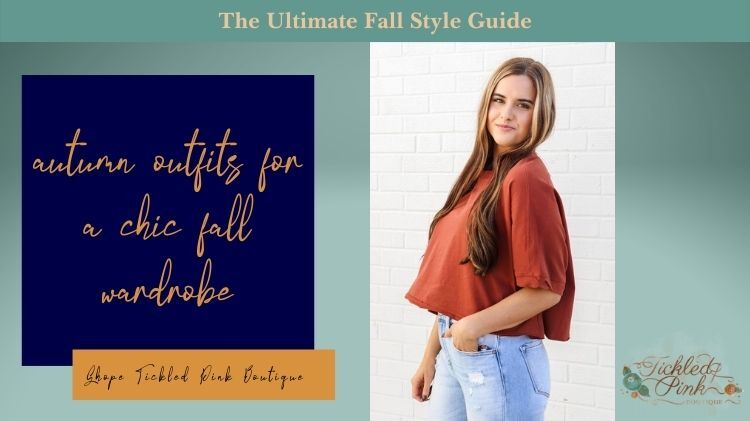 The Ultimate Fall Style Guide
Fall is everyone's favorite season. The colors are changing, the weather is cooling down, and Starbucks has pumpkin spice everything! So who wouldn't want to run to their closet, throw on their favorite knit sweater, and head to the pumpkin patch?
However, deciding on what outfits to wear can be tricky. Fashion trends are constantly changing, and you want your wardrobe to stay as trendy as possible!
To make this happen- we've put together the ultimate fall style guide to make sure you're looking fabulous in all of your fall-themed Instagram pics ! Shop for some traditional and wonderful fall outfits at the greatest boutiques stores online to bring out your trendy side.
Get Inspired
Fall looks are inspired by the changing colors of leaves, apple orchards, and pumpkin patches.
Because this season tends to be on the chilly side, layering is the way to go! Lucky for you, we have so many jackets, sweaters, and other accessories to spice up your fall look. This is the best season to get creative. Mixing and matching different accessories can take your look to the next level and make it unique!
Fall is known for its iconic color palette. Warm tones can be found throughout our fall collection. Burgundy, peach, fawn, and brown are just a few colors that signify this season. 
You can find a variety of fall-related outfits on our website. From long dresses to light cardigans and trendy jackets, we have what you're looking for! If you need some additional inspiration, check out this fall season guide!
Leather Jackets
A cute leather jacket is essential to any fall outfit. Leather jackets have the power to elevate your look and add a little extra flare. We have leather jackets available in many different colors. The variety allows you to mix and match anything in your closet to create an adorable fall look.
If we had to pick a favorite from our collection- it would be our faux leather jacket. This jacket is made from our best-selling faux leather fabric. It's so comfy and cool; you'll never want to take it off! This must-have style is designed with figure-flattering seams and raw edges, which help to create a more relaxed look.
Suppose leather isn't your jam, no worries! We have a wide variety of jackets to choose from. We always suggest pairing jackets with some of our adorable booties! When it comes to fall- boots are a must! You can browse through our collection here-
Flared Jeans
Flare jeans are in this season! Ditch your skinny jeans and add a unique flair to your fall look! They add a 70s type vibe to any outfit you put together. We always recommend pairing them with an open-toed heel or even some chic booties if you're planning a trip to the apple orchard.
To finish the style, add a cute crop top! You can even layer your top with one of our many knit sweaters. Browse our collection and get yourself some latest autumn essentials!
Maxi or Knit Dresses
Dresses are perfect for fall. They give you the ability to either layer them up or dress them down depending on the weather! We have so many adorable dresses to choose from. Whether you're looking for a maxi dress, knit dress, or mini dress, we have you covered! 
Button-up ruffled midi dresses are trendy and modern. This dress can be paired with a denim jacket or even a stylish plaid belt! For an early 90's vibe, add an adorable pair of buckle shoes! Shop this look on our website and find additional accessories that add a fall feel to your look.
Blazers
Blazers can be either formal or informal. The choice is entirely up to you! You may go for a traditional look by wearing it with slacks and a button-down shirt, or you can simply layer it over a cute graphic tee and add some ripped jeans!
We mean business in this oversized suede blazer! Make a statement in the office or out on the town! You can even pair it with your favorite pair of heels. This jacket comes in various colors, allowing you to create so many unique styles this fall. Find the best collection of women's jackets on our website!
Sweaters and Scarves
Hand-knit sweaters and scarves are not only adorable but so cozy! They are also a fall staple. What's a closet without an oversized sweater and a cute plaid scarf? The best part about sweaters and scarves is that you can mix and match them with many different styles and accessories! 
A neutral knit sweater paired with an oversized scarf and leggings can be your go-to outfit all season long! This look is so simple yet versatile. You can wear it to work or out to brunch with friends! Either way, you'll look trendy! You can find unique women's sweaters on our website!
Cardigans
Oversized sweaters and cardigans are trending this fall! They look great with black leggings or ripped jeans. This look can also be paired with a sassy pair of heels or even thigh-high boots if you're feeling a little daring!
Check out our Cable Knit Cardigan in a gorgeous shade of taupe. Who wouldn't want this?! Whatever occasion it may be, it is the perfect addition to any outfit! You can pair it with just about anything. Toss it on over your favorite bodysuit, tank, or t-shirt for a fun, effortless look!
Conclusion
Fall is just around the corner, which means it's time to start shopping! Choosing what outfits to wear can be difficult as trends seem to be constantly changing. Oversized sweaters, flared jeans, leather jackets, and even an adorable pair of boots can be great additions to your closet this season. We hope our fall-inspired style guide has given you the inspiration you need to ensure your wardrobe is ready for whatever the season may bring! Head to our online boutique stores to stock up on all of our best fall-inspired looks today!