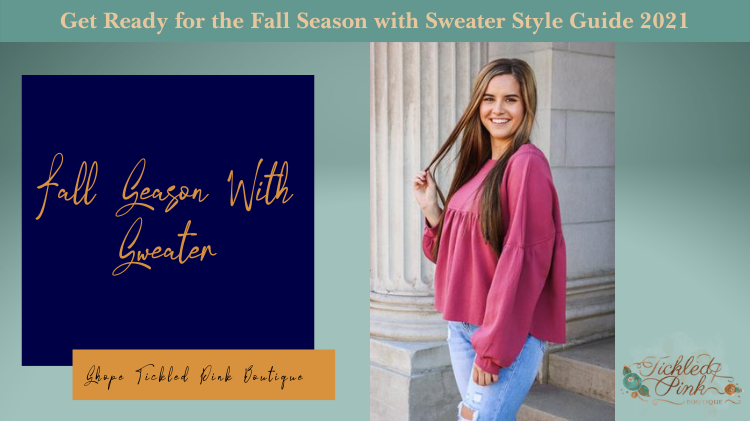 Get Ready for the Fall Season with Sweater Style Guide 2021
It is finally time to show off your knits and classic coats.
The fall season is here, and everyone is eagerly waiting to grab those pullovers from the closet and replace them with some chic sweaters and knits. Take your fall sweater outfits from basic to classic by getting your hands on the exclusive collection at the women's online clothing stores!
It can be difficult to come up with new ways to wear classic knits, but this season's sweater outfit options are limitless.
We've picked up some fresh sweater outfit ideas to inspire your wardrobe this season, just in time for fall dressing!
Layer-up with the best Sweater-style Outfits this Fall Season
When getting dressed in the summer, we take inspiration from the season's natural airy feelings. However, as fall approaches, we can't help but get eager about the new season's fresh crop of outfit ideas and layering escapades. There's a lot to choose from, from oversized blazers and contemporary outerwear trends to comfortable knits and sweater dresses.
Get inspired by the closet essentials for the fall season with the classic Tickled Pink Outfits that you can wear while juggling up your work meeting or weekend gatherings. Find these classic fall outfits at the online boutique stores.
1. Color block Fringe Sleeves Sweaters
We're having a color block party this fall season. Solid-color panels that contrast are appealing on any body type. Every year, the brown color of the Kira Fringe Sleeve Crop Sweater sells out. This year, the sandy color option will set a mood for you if you have a work meeting in the middle of the day. 

We have a new option called Outstanding Fringe Sleeve Color Block Sweater. It features a diagonal ombré color block that we adore. Pair it with distressed women's jeans and cowboy boots to look like a true southern chic. Find this classic ensemble at the boutique stores online to fill your fall wardrobe with amazing outfits.
2. Balloon Sleeve Sweater
If you want a look that sticks out from the crowd, statement sleeves are the way to go. The gorgeous open-knit sleeve features on our best-selling pom-pom Sleeve Sweater. The cute, hinged pom-pom details are another lovely alternative with big sleeves. For a contrasting look, pair oversized fits with sleek leggings or dark wash jeans. However, if it is too warm where you live, then you can ditch the sweaters and opt for comfy t-shirts instead. Shop amazing and stylish t-shirts for women at the online boutique stores.
3. Wrap-style cardigans
No longer reserved for your grandmothers, cardigans seem to be in trend these days! A fashionable wrap cardigan will add a pop of color to any outfit. The ribbed knee-length cardigan is the newest wrap cardigan to hit the market. Finish the ensemble with a hat and booties, and you're done! The knee-length pattern and puff sleeves will give you the leverage to wear them at work or for a weekend getaway. Shop for a women's top to wear under the cardigan, and you can even take out the cardigan if it gets too hot for you. Get the rocking fall collection of cardigans for women and fill your wardrobe with the newest and stylish outfits this season.
4. Turtleneck Sweaters
Turtlenecks are absolute favorites and add a touch of sophistication to your whole ensemble. Get those elegant and smart vibes to your fall wardrobe this season with a turtleneck sweater bone. The creamy white color and texture of the sweater will make you feel classy and warm if you are at work or meeting some friends over dinner. Layer it up with a scarf or accent necklace or even a waist belt to accentuate your figure. It is a definite staple to add to your wardrobe for fall 2021.
5. Bodycon Dress with a Light Cardigan
Balance out the fall look by getting wrapped in a bodycon dress paired with a light or knitted cardigan on top. The knit material of this tanned dress will keep you warm along with giving you classy vibes. Complete the look with some booties and layered accessories. Be it a weekend escapade or a strolling session in the market; the ensemble compliments the fall season through and through. Get your hands on elegant and fashionable Tickled Pink Dresses to complete your fall wardrobe at reasonable prices!
6. Oversized Sweaters
There's nothing like an oversized comfortable knit combined with skinny jeans and boots to complete the look. It's simple and appropriate for any occasion, plus you can wear your favorite tee underneath and shed layers on those still-warm October days. Also, an oversized sweater gives you an edgy yet comfortable look. Play with this amazing fall ensemble when going for a stroll in the park or to your favorite coffee shop in the neighborhood.
7. Split Hem Sweatshirt
Want an edgy look? Go for a split hem sweatshirt to get one for this fall season. Wear it off the shoulder with a bralette for additional flare or frayed denim for a more casual look. Our Commitment to Cool sweater is a classic style that you'll reach for time and time again. This fabric is quite versatile and may be worn with either jeans or leggings. Make sure to have a look at our newest sweater designs at Tickled Pink Store.
Conclusion
There are so many fantastic fall outfit ideas out there, from effortlessly chic ways to rock all of the trendiest jackets to ideas on how to look attractive and distinctive in your favorite simple sweaters. Get ready for all the fall clothing inspiration you'll ever need and prepare to experience the coziest (and most stylish) autumn ever. Bring out your fashionable side by shopping for some classic and amazing fall outfits at the best boutiques stores online – Tickled Pink Boutique!