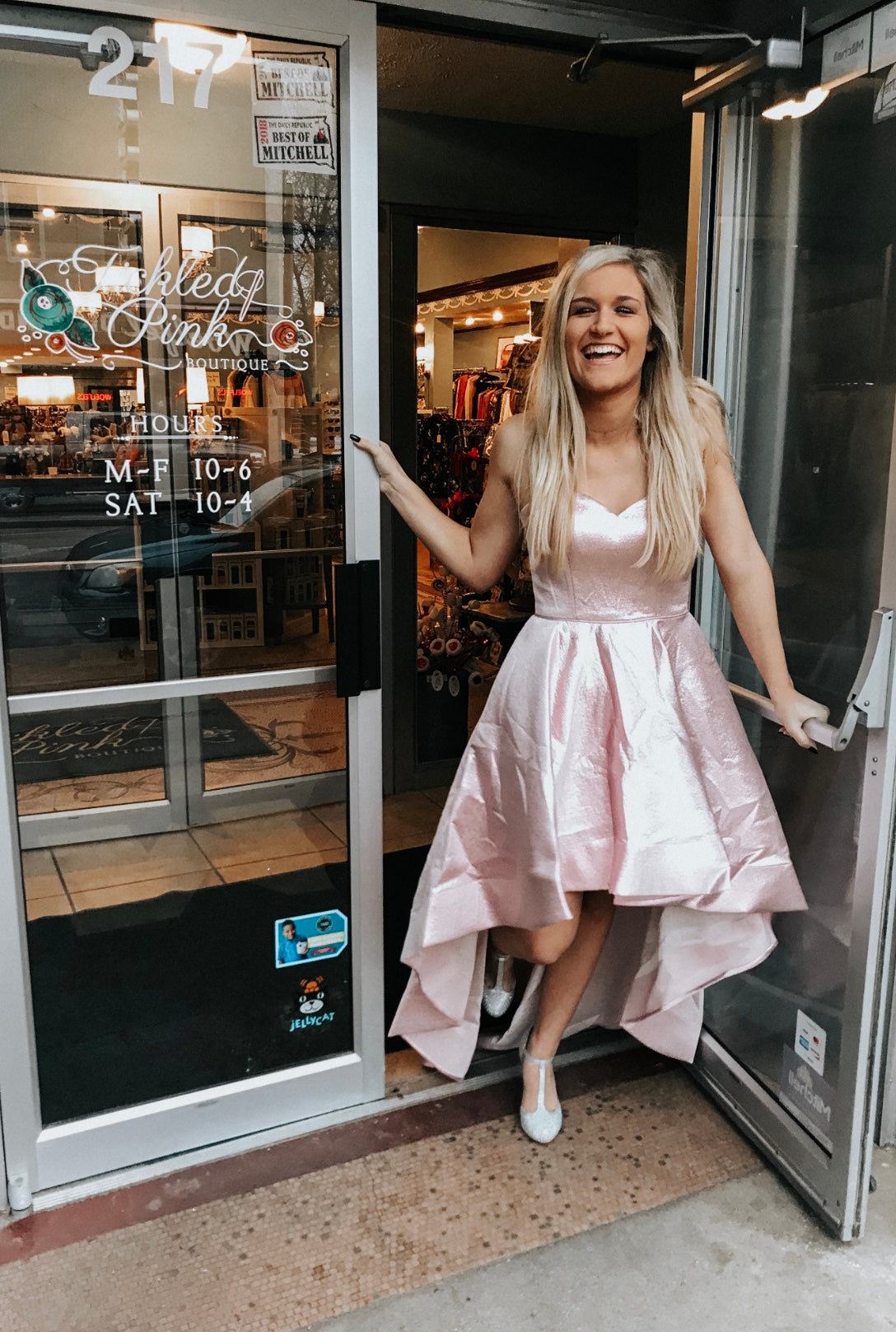 Before you go Prom Dress shopping, there are a few things you should know and do.  Let's be honest, you are spending a lot of money for just one night.  We want you to feel the most beautiful and comfortable, which is why I am here to tell you the do's and don'ts of Prom Dress shopping!
First of all let's talk about who you want to bring along with you.  Most girls want to bring a tribe of friends and family.  Well that shouldn't be the case. Most Prom Dress stores do not have the space to accommodate all of those people.  Second of all, you may think that you want all of those "helpful opinions" but you don't.  Sometimes there gets to be too many people giving too many opinions and they may be hurtful.  Grandma may say, "Oh hunny, try this on for me," and it looks like this....  
kidding... you will not find that dress at Tickled Pink Boutique!  But she may pull something that you do not want to try on and you do not want to be the one to offend her.  Also, that takes up your time that you really need to narrow down your dress selection.  So let's try to keep your cheer squad to a maximum of 3-5 people.
Now, when do you want to set aside some time to go try on all those beautiful Prom Dresses?  I will honestly tell you that weekdays are the best time to come in for an appointment.  We offer private prom appointments on Tuesday's and Thursday's at 4:00p.m. and 5:00p.m. Walk in's are welcome at anytime during business hours.  We also will be offering weekend appointment's on Saturday's at 9:00a.m. and 4:00p.m.  Appointments will cost you a $20 booking fee, but will be applied towards your dress if you buy at that time.  We will be hosting Trunk Shows which are weekends we get "try on" dresses in from certain designers and we can take orders only those dresses. *Dates and times may vary for trunk shows*
We are located at 217 N. Main Street in Downtown Mitchell, South Dakota.  The building we are in is an old bank from the 1900's.  We spent a lot of time and energy remodeling this building to serve as a retail store.  We are limited to only 5 fitting rooms at the moment.  So appointments will be limited.  With that being said, when you are in a fitting room we ask that you respect our dresses by not dropping them on the floor after trying on.  Please hang them back on the hanger in the plastic bag it was hanging in.  If you place a dress on the floor, you will be asked to leave.
So why us?  We have been in the Prom Dress business for 8 years.  We travel to Atlanta every August to hand select your dream dress.  We sit through HOURS of runway shows and analyze all costs to bring you the best bang for your buck!  Style, color, fabric, beadwork etc. all go into our decision making each year.  Which is why we will carry certain designers one year and not the next.  Sometimes we just don't love what they have one year over the next.  This year we are carrying Sherri Hill, Primavera, Madison James, Rachel Allan, La Femme, Colors and many more.  We have girls travel all over within a several hundred mile radius to come see us!  Our customers come from the following cities in South Dakota: Sioux Falls, Rapid City, Brookings, Watertown, Aberdeen Huron, Yankton, Pierre, Spearfish, Vermillion, Brandon, Harrisburg, Tea, Madison, Dell Rapids, Chamberlain, Parkston, Ethan, Salem, DeSmet, Wessington Springs, Plankinton, Platte, Mount Vernon, Wagner, Bridgewater, Emery, Alexandria and White Lake.  Nebraska: Norfolk, Spencer, O'Neil, Crofton, Fremont, Stuart, Hartington and Valentine.  Minnesota: Luverne, Worthington, Pipestone, Windom, Marshall, Tyler, Walnut Grove, The Lakes, and Slayton.  Iowa:  Rock Valley, Sioux Center and Sheldon.
Now, when you come in to try on prom dresses.  Put a little makeup on, shave your armpits (please), wear undergarments (please).  You won't feel great if you just crawled out of bed and came in to try prom dresses on.  We are the ones who will be zipping/tying your dress for you.  Trust me we have seen it all... so please use a little hygiene before you come in.  If you have any questions please give us a call we are more than happy to answer them for you.  605-990-3130